We make "YOUR FUTURE"
Prototype of pulse wave meter
We measured pulse waves of silkworm and human using a phot reflector.
A pulse wave is an electrical signal that records the change in blood vessel volume
that occusr in the blood pumped from the heart.
In this prototype, we observed it usng a photo reflector.
A photo reflector is a sensor consisting of both an invisible infrared irradiator
and a diode ( receiver ) that detects reflected infrared.
By analyzing the pulse, it is possible to know the pulse rate, the blood oxygen saturation,
and the blood vessel age( flesibbility. )
Monitoring the signal output from the sensor using Arduino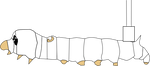 The sgnal is amplified
using an operational
amplifier,because
the electric signal
obtained from the sensor
is weak.
Input an electric
signal to "Arduino"
(one-board
microcomputer).
We can monitor
the output signal
from "Arduino" as
a waveform using
the sketch (programming)
created for pulse wave.
Examples
Silkworm pulse wave

Human pulse wave